Sonja Blum , 2017-12-15
Since this month, the
Protogrid Team
is supported by a new economic expert. We are pleased to introduce
Sandro Andermatt
to you: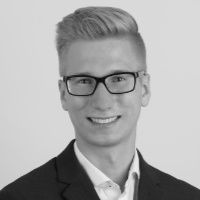 Tell us a little bit about your background.
I am currently studying Business Administration at the University of Berne with a major in Information Systems. Last year I also did an internship in the field of project and process management.
What do you like best about Protogrid?
I like the approach that you can also develop your own application as a non-programmer. In general, I find the idea of RAD (Rapid Application Development) very exciting. I'm also thrilled that Protogrid is cross-platform. I think managing different platforms and operating systems are a common problem for companies. Protogrid offers a fresh, solution-oriented approach.
How are you taking Protogrid forward?
As project manager, I support the customer in the development of his individual application. At the same time I support the development of standard apps and modules, which are made available to all users.
What technical innovation do you want for 2018?
I would like to see laser keyboards integrated into tablets, so that no additional keyboards are necessary.